About The Artist
Where most people see a fruit or vegetable and focus on its taste, Punnee Burgess imagines an image.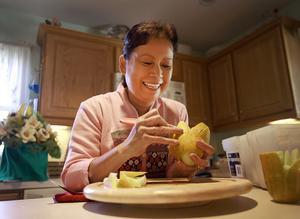 The intricate art of fruit and vegetable carving is a precious part of the Thai heritage. Long ago this art was taught and inherited by women only; however, now it has become a skill widely taught in culinary institutes around the world.
The purpose of Thai fruit and vegetable carving is to enchant a table, to transform ordinary fruits and vegetables into exotic flowers, intriguing containers, and entertaining table arrangements.
Thai fruit and vegetable carving not only provides captivating visual effects, it also provides an inner peace and contentment that can only come with working with one's hands at an ancient art form.
The fanciful flowers, animals and temples are part of a 650-year tradition, which Burgess is trying to preserve by demonstrating the carving technique and making centerpieces for events.
Featured in Edible South Shore – Summer 2012
Featured September 16, 2009 – The Patriot Ledger